If you have a Trimble S-Series Total Station running an older version of firmware, you can upgrade to the latest version yourself.
NOTE: Trimble Optical Positioning Components R4.8.52 (or newer) must first be installed on the PC before you can load the firmware. This software is for Windows 7 and above and is 32 bit and 64 bit compatible, so install the correct version for your operating system. The Visual C++ Redistributable Packages for Visual Studio 2013 is also required.
To check the version of firmware that is currently on your instrument:
Turn on the Trimble Total Station by pressing the trigger key on the side of the instrument.
Navigate to the Setup menu on the face-2 display.
Select Firmware version from the Setup menu. This will display the version of firmware installed on the instrument.
To upgrade your Trimble Total Station to firmware version to the latest
Go to the following link: https://geospatial.trimble.com/en/support/technical-support and choose your instrument and go to downloads. Select Trimble Total Station Firmware Update and it will automatically start to download, if you haven't already you will also need to download the Trimble Optical Positioning Components (SNP Com) file. After download is completed place the exe on your desktop or desired folder.
Connect a hirose 6-pin to PC USB cable (P/N: 738140019 or 53099032) from the instrument foot connector labelled COM to a USB port on the office computer.
Ensure that the instrument is not connected to any controller and/or Trimble CU is removed. Insert a fully charged battery into the instrument.
Turn on the Trimble Total Station by pressing the power button on the side of the instrument.
Run the file "Trimble Total Station Firmware Update .exe" that you saved on the office computer to begin the firmware upgrade.
Follow the instructions in the installation wizard to complete the upgrade.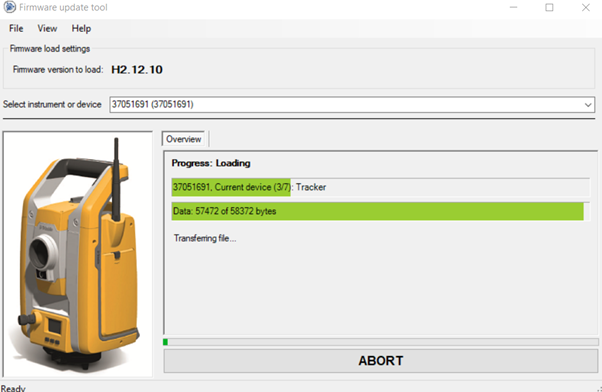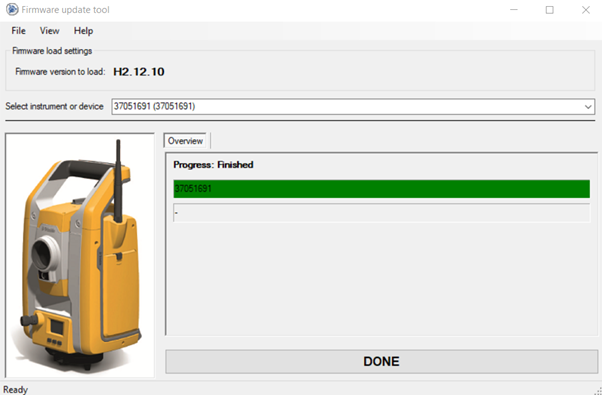 MORE INFORMATION
For additional information or assistance, contact 1800 800 874 or email support@upgsolutions.com